Summer Tech Camps Held at Columbia University

Summer programs held at Columbia
Computer Camps Held at Columbia University
In 1999, our independent family company set out to reinvent "camp" for the 21st century. Today, we're the number #1 tech camp on the planet, with summer technology programs for kids and teens held at over 100 campuses nationwide. At Columbia University in New York, NY, we offer co-ed iD Tech Camps for ages 7-17. Learn code, game design, app development, web design, film, photography, and more. Kick-start your dream job and gain a competitive edge for college!
At select locations, other co-ed options include intensive 2-week, pre-college iD Tech Academies for teens ages 13-18 and iD Tech Mini for ages 6-9. We also offer Alexa Café, an all-girls program for ages 10-15. Experience personalized learning with a maximum of 8 students per instructor, and use the best brand name products from industry leaders like Adobe®, Apple®, Autodesk®, Google, and Microsoft®. Innovative courses. Your pace. Your internalDrive.
Please note: This is a day-only program. Overnight stays are not available at this location.
iD Tech Camps held at Columbia is
filling up quickly 

(see availability below). There is still space nearby, so please check our camps held at Marymount Manhattan College (2 miles).
Summer 2015 Courses & Dates
iD Tech Camps Program Details
Co-Ed | Weeklong | Programming, Game Design, Apps, Robotics, Web Design, Film, Photography, and More
Our summer computer camps for kids, pre-teens, and teens are segmented by course and age. Teens will study, socialize and eat with other teens, but may be in the vicinity of younger students during lab time. Yes, we're a tech camp, but we do not sit in front of digital devices all day. We provide a well-balanced, fun summer camp experience that is age-appropriate for kids, pre-teens, and teens. Imagine a small group learning environment where the curriculum is tailored to you. A place where you build critical 21st century STEM (Science, Technology, Engineering, and Math) skills in intimate clusters of just 8 students maximum per instructor, and collaborate with new friends.
You'll gain confidence, explore a unique college campus, and get a taste of the collegiate experience. This isn't just camp. It's a portal to a fulfilling future, in college and beyond. Kids camps and teen camps encompass courses in programming with Java™, C++, Python™, Scratch, and more, app development with iPhone® and Android™, Minecraft, modding, FPS and RPG game design, robotics engineering with VEX® and LEGO®, 3D modeling & animation, filmmaking, photography, and web design. Course offerings vary by site. View courses at this location. Beginner or advanced, you'll get inspired by energetic, tech-savvy instructors. Do something big this summer!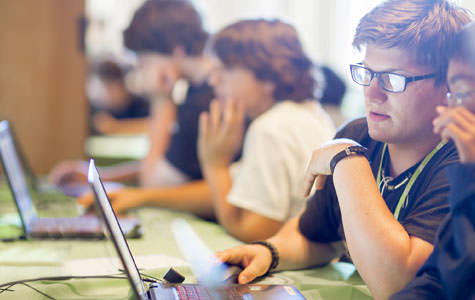 Learning
8:1 Ratio Guarantee: We do it differently—this isn't school. We guarantee 8 students per instructor for personalized learning. Every time.
Personalized Instruction: Your path, at your pace. Most of our courses are beginner through advanced. If a course has prerequisites, you'll be notified during registration. You'll be immersed in a blended learning environment using our iD Game Plan 2.0 engine, along with one-on-one instruction from our team of educators. Our approach allows you to learn at an appropriate, customized pace.
Project-Based Curriculum: At iD, you learn by doing—it's hands-on. You'll work with industry-standard hardware and software, complete a final project, create an online portfolio, and bring your new tech knowledge into the real world.
Staff
All-Adult Instructors: We don't cut corners by hiring Counselors-in-Training. Instead, we employ energetic, tech-savvy, all-adult instructors to teach our courses and supervise our kids and teens. We recruit from thousands of candidates, and select from the best. It doesn't hurt that we've been named a Top Workplace 6 years in a row, and that we have the reputation as the #1 Tech Camp on the planet. The top talent works at iD.
Best of the Best: Many iD Tech instructors are students or graduates of prestigious universities like Stanford, MIT, Princeton, and Yale. Some are industry professionals. Others began as iD students and have returned to give back to the next generation of innovators!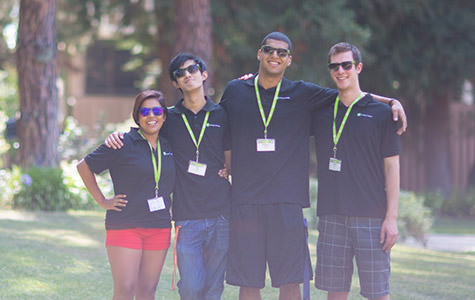 Meals
A Taste of College: We eat right in the university dining halls! (If the dining hall is closed, we will bring in catered meals or eat in the university food court). Meal plans are available for Day Campers and Overnight Campers. The food is generally good at most campuses. More and more campuses are paying attention to important details like organic and sustainably-farmed food sources, kosher and vegetarian options, and a variety of overall healthier options.
Safety & Risk Management
American Camp Association® Accreditation: iD Tech Camps is accredited by the Southern California Region of the ACA—and we spread those best practices to each of our programs across the country. Being ACA accredited means we have met over 300 health and safety requirements.
Background Checks: We conduct criminal background checks, sexual offender background checks, multiple reference checks and identification checks on all camp staff members.
CPR & First-Aid: All program locations are staffed with CPR Certified Directors and Instructors.
Risk Management Training: Our staff members attend in-person risk management training, and our content is updated every year as conditions change.
Tuition
The following are included in tuition cost:
Custom iD t-shirt
iD Diploma with instructor insights
8:1 student to instructor ratio guarantee
Final project portfolio with pen drive
Access to online curriculum after camp
Campus tours (most locations)
Outdoor activities
Gaming tournaments
Software savings (most courses)
New skills and self-confidence
Optional Add-Ons
Click here to learn about our Tuition Assistance Program.
About Columbia University
This is our 10th season hosting summer camps at our Columbia University location. We strike the right balance between off-computer activities (creative games, sports, life skills, etc.) and essential technology education to foster STEM skill development (Science, Technology, Engineering and Mathematics). Our popular Columbia University summer day camps are among a handful of elite summer camps located in New York City.
Our summer academic camps at Columbia University offer students the chance to take in rich Ivy league culture while learning cutting-edge tech skills. Originally named King's College, Columbia was re-named in 1784 to embody the patriotism that ignited America's quest for independence. Pulitzer Prize winning writer and Columbia alumnus Herman Wouk described it as a place of "doubled magic" in which "the best things of all human history and thought" were contained. Columbia is an elite member of the Ivy League and a world-class institution particularly renowned as a center for research. Now over 250 years old, Columbia University is as rich in history as our country itself.
The campus is easily accessible by New York City subways and buses, making it easy to commute to this summer camp in New York. Columbia University is an excellent option for a day camp in the Tri-State area.
Campus Info: Held at Columbia University
Please note: Map and campus details are for general information only. Once you enroll, you will have access to our specific location on campus.
Columbia University Facts
Nickname: Lions
Founded: 1754
Student Population: The highly selective Columbia University only admitted 8.9% of applicants for the Class of 2013, one of the lowest rates in the nation. A racially diverse school, Columbia has accumulated a student body that is made up with 52% of all students identifying themselves as persons of color. Additionally, of the class of 2013, 50.3% of all undergraduates will be receiving some form of financial aid.
Rankings: Tied with the University of Chicago, Columbia's undergraduate school is ranked 8th among national universities by the 2010 U.S. News and World Report, making it the perfect academic summer camp location. They are also ranked 7th among world universities and 6th among universities in the Americas by Shanghai Jiao Tong University.
Athletics: The Columbia Lions are part of the National Collegiate Athletic Association (NCAA) and compete with 29 varsity sports teams. One hundred blocks north of main campus at Morningside Heights is where the Lions football team plays their home games.
Distinguished Alumni & Personnel: Presidents, Nobel Prize winners, athletes, actors and more make up a large portion of the Columbia alumni group. This list includes: 26th President of the United States (1901-1909) and Nobel Peace Prize recipient Theodore Roosevelt; 32nd President of the United States Franklin Delano Roosevelt; 34th President of the United States (1953-1961) Dwight Eisenhower; President Barack Obama; Actor James Franco; Actor Jake Gyllenhaal; Actor Ed Harris; and Grammy Award winning singer and composer Alicia Keys.
Points of Interest: New York Aquarium, The City Hall, The Metropolitan Opera House, Madison Square Garden, American Museum of Natural History, Hayden Planetarium, Chinatown, Greenwich Village, Washington Square, and Union Square.
Testimonials from Columbia University
What Parents Are Saying
"Our son absolutely loved his week at iD Tech Camps (and he's usually very hard to please)! He looked forward to going every day, was excited about his project and said that he'd really learned a lot. The staff members were fantastic - enthusiastic, knowledgeable and always helpful. Thanks so much for a rewarding and fun-filled learning experience!" -Jeannie C., Parent, Columbia University
"The setting is good, the staff friendly and the program well organized. Thank you for a fun week." -Elisabeth R., Parent, Columbia University
"I am very satisfied with the camp staff for their great work and support for my son. I will definitely send him again to iD Tech Camps next year. Most of all, my son enjoyed it very much." -Haeyoung L., Parent, Columbia University
"We appreciate getting to meet the instructor and seeing and playing the game my son created. The diploma ceremony was very positive, giving individual and personalized, positive comments about each student showed how much the instructors came to know and appreciate each of the kids." -Norah M., Parent, Columbia University
"My son and his friend had a fantastic time at camp this week! Thank you." -Margo D., Parent, Columbia University
What Campers Are Saying
"We didn't only get to program our games, but we also got to play computer games, board games and play outside. All of the instructors were very helpful... It was really fun." -Haley S., Student, Columbia University
"I had a lot of fun using the programs. I made a lot of new friends and I hope to come back next year!" -Noah S., Student, Columbia University
"I was not sure how much of an entire programming language I could learn in a week, but after completing my final project, I feel like I have really learned some key aspects of Java™. Enough so that I want to pursue the language and delve into more advanced programming." -Jacob C., Student, Columbia University
"It takes skills to make anyone want to do something for 7 hours straight. iD Tech Camps did this to me with programming." -Ryan L., Student, Columbia University
"Camp was cool - the instructors are fun and they care about you and your work." -Amy G., Student, Columbia University
iD in the News
Columbia University