HTML5 App Development

iD Programming Academy Course
HTML5 App Development
App Development Course for Teens
Division

iD Programming Academy

Ages

13-18 (Must turn 13 by 12-31-16)

Skill Level

Int - Adv
Ratio Guarantee

8 students per instructor

Prerequisite

Yes (see below)

Software

HTML5, Adobe Dreamweaver
Course Description
Prerequisite: Solid understanding of variables, syntax, loops, and conditionals in a language such as Java, C++, or PHP. This is not a beginner course.
HTML, CSS, and JavaScript, the technologies that long powered the Internet, have seen a recent renaissance for mobile app development with the introduction of HTML5. You can use these basic technologies to produce games and apps that can be used anywhere: mobile, desktop, and even embedded in to websites.
What Will Students Take Home?
Students will take home their JavaScript files and website files.
What Will Students Learn?
Students Will Learn to:
Create apps using HTML, CSS and JavaScript
Publish apps to devices
Top Skills Gained
Software & Hardware Skills Development
JavaScript
Dreamweaver
HTML
CSS
Front end web development
STEM & 21st Century Skills Development
Critical thinking
Logic
Project planning
Software design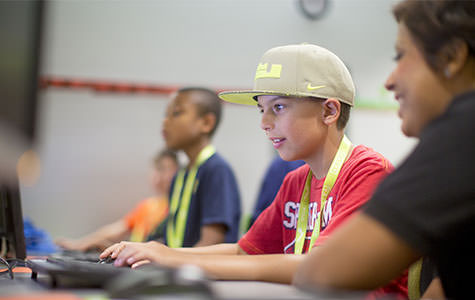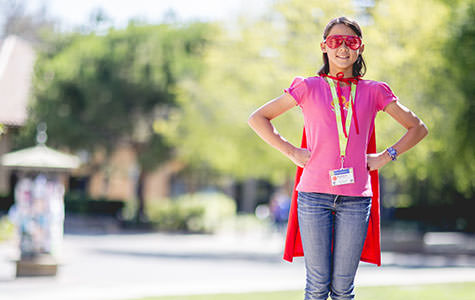 Skill Level | Is This Course Appropriate for Your Student?
This app development course is for ages 13-18 (Min Age: Must turn 13 by 12-31-16). It requires a solid understanding of variables, syntax, loops, and conditionals in a language such as Java, C++, or PHP. This is not a beginner course. The curriculum is designed for students who want to learn to create apps which they can use on their computer, from their phones and tablets, on the web, or just about anywhere else. This class will focus on using industry standard technologies including HTML, JavaScript, and CSS to create a variety of apps. Bring your ideas for apps and websites to life!
Our Recommendations
This app development camp is ideal for students who are interested in creating apps that can be used anywhere (web, computer, phones, or tablets). It's a great starting point for those who wish to enter fields such as computer science, software engineering, app development, or web development. Feel free to call us at 1-888-709-8324 so that we can make personal recommendations, should you need assistance.
Where Is This Course Offered?
Overnight Program
Ages: 13-18
Check-In: 6pm Sun
Pick-Up: 3-4pm Fri
Tuition: From $3,799-4,249 (per 2-week session)
Meals: Included
Day-Only Program Held at NYU
Ages: 13-18
Check-In: 8-9am Mon-Fri
Pick-Up: 5-6pm Mon-Thu, 4pm Fri (varies by site)
Tuition: From $2,899 (per 2-week session)
Meals: Lunch for the 2-week session can be purchased for an additional $120
Please note: Prices are in US Dollars. All taxes included. In addition to the prices listed above, there will be a one-time Safety & Compliance Fee of $20 per student per year. Additionally, a minimum deposit of US $500 is required at the time of registration. Academy sessions are two weeks in length and are all-inclusive of meals, housing, instruction, and supervision. For beginner to advanced students, we provide immersive, pre-college courses in app development, robotics engineering & coding, game modding, and more. Programs are held at top academic institutions and availability varies by location. Students attending iD Programming Academy held at MIT must be in high school. NYU offers day programs only—no overnight or weekend stays.
Your Tuition Includes:
8:1 student to instructor ratio guarantee 

Diploma with instructor insights

Final project portfolio

Custom iD T-shirt and H2O bottle

Software specials (most courses)

Access to online curriculum after camp
Campus tours (select locations)

Industry Insights

Outdoor activities

Gaming tournaments 

New skills and self-confidence

Weekend Stays
Add $379 per weekend
We invite you to stay the weekend BETWEEN the two weeks—most students elect to stay. Room, board, activities, excursions, meals, and supervision are included over the weekend. You're also welcome to stay the weekend AFTER your 2-week program. Please note: Program availability varies by location—please check your site of choice for specific course offerings.

Continuing Education Units
Add $198 per 2-week session
Gain a competitive edge for college—Accredited Continuing Education Units issued by Villanova University are available for purchase upon registration.
Tech Rocket (Online Learning)
Add $179 (annual subscription)
Build your STEM skills year-round with our online subscription service. Learn from tech tutorials, compete in gaming tournaments, and stay connected through community forums. Tech Rocket is the perfect add-on to iD Programming Academy.
University Immersion
Teens experience independent college life in a supervised environment. This pre-college program is overnight-only, so teens stay in real college dorms, eat in dining halls and get a feel for daily life on campus. Choose the recommended Weekend Stays option to have even more time to explore campus and local attractions.
Software Repository System Utilization
iD Programming Academy students will use professional, industry-standard tools while at the Academy, including software repositories. These cutting edge technologies allow aspiring programmers to collaborate, share projects, and work in real-world coding environments. Students will not only learn to revise code and push it to the repository while in session, but also have full download access to retrieve their projects after their session. Establishing a repository sets our participants apart from their peers on college and internship applications.
Accredited Continuing Education Units
Build up your resume for college by earning Continuing Education Units. Receive an official transcript from Villanova University (available for purchase at all Academy locations). CEU Credits demonstrate that students have completed course content of college-level difficulty.
Industry Insights
Get a feel for future career options and meet industry professionals. Depending on session location and availability, students tour big-name studios like Turbine, Google, and more.
Instruction
Discover what sets our teaching style apart.
8:1 Staff Ratio Guarantee
We guarantee small class sizes, with a maximum of 8 students per instructor. At iD, our teaching philosophy is premised on personalization—your path, at your pace. Passionate, all-adult instructors guide you through tailored curriculum with one-on-one teaching. The immersive environment is ideal for fostering creativity and allowing you to reach your learning potential. Read more about our 8:1 iD Guarantee.
Two-week, Intensive Courses | High-level Curriculum
Our 2-week courses at the Academy provide you with the right amount of time to get comfortable in your field of study and put your knowledge to use with hands-on projects. You'll have ample time to work on your online portfolio, enjoy excursions and tours of nearby facilities, relax with late-night gaming tournaments, and explore campus (Weekend Stays optional).
Other Activities
You can expect roughly 6-7 hours a day of class instruction, with plenty of time for campus excursions, socializing, outdoor activities, video game tournaments, and more. Parents want peace-of-mind and student supervision—teens want a taste of independence. We work hard to provide the right balance. We hope to make your experience valuable and memorable.
All-Adult Staff
Our entire staff is comprised of adults ages 18 and over. We do not hire Counselors-in-Training (CITs) at our summer technology camps. We believe you learn best from adults who have mastered their technology skills. Some of our instructors are tech industry professionals. Others are graduate and undergraduate students majoring in the fields of Computer Science, Computer Engineering, App Design, Film, and other related fields. We're extremely selective when it comes to our summer staff.