Game Development With Unity

iD Game Design & Development Academy
Game Development With Unity
Unity Camp for Teens Ages 13-18
Division

iD Game Design & Development Academy

Ages

13-18 (Must turn 13 by 12-31-17)

Skill Level

Beg - Adv
Ratio Guarantee

8 students per instructor

Prerequisite

Yes (see below)

Software

Unity, C#
Course Description
Prerequisite: Some existing experience with a scripting or programming language.
You can do it all with the power of Unity—design, develop, and code your own multi-platform game. Unity, which is taught in game development programs worldwide, is a versatile tool that will allow you to make almost any game you can imagine. Build a project interface, program gameplay mechanics with C#, and import art into custom environments using Unity's online assets library. Developing in Unity is an essential skill for anyone considering a future in the gaming industry.
What Will Students Take Home?
Students will take home a copy of their files and any assets they used in the creation of their game or programming project. Each student will also go home with an .exe or stand alone version of their game for web, PC, Mac, or other platform.
What Will Students Learn?
Students Will Learn to:
Receive input from players
Modify and manipulate game objects
Utilize object-oriented programming design methods
Use Scenes in Unity to create levels, menus, and coherent polished projects
Program with C#
Top Skills Gained
Software & Hardware Skills Development
Unity Engine for game development
C# Programming
STEM & 21st Century Skills Development
Project planning
Creativity
Problem-solving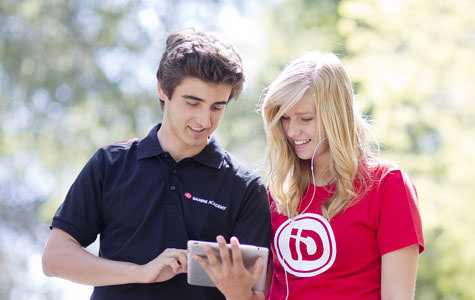 Session Outline
Week One: After an overview of the game development process and beginning pre-production design, dive in and get started with the advanced Unity toolset and its unmatched world building editor. Learn how to import 3D meshes, sounds and textures, manage in-game art assets, and work with prefabs. You'll move onto constructing scenes, working with scene view cameras and defining trigger zones as you take advantage of the Unity Engine's integral rendering, lighting and physics capabilities.
Week Two: Begin the process of finalizing your game as you discover the friendly scripting tools of Unity, but without sacrificing depth. Work with event systems and manipulate objects with code. Test and tweak your developing game with advanced preview tools such as the inspector window and single-step playback. Debug and profile your game, then publish your game for PC, Mac, or web.
Skill Level | Is This Unity Camp Right for Your Student?
This game design course is for ages 13-18 (Min Age: Must turn 13 by 12-31-16). It requires some existing experience with a scripting or programming language. Our ever-evolving curriculum is designed for beginner through advanced learners allowing students to move along at their own pace with customized lessons for a fun and appropriate challenge. Instructors work closely with students and adjust the curriculum to fit their progress and their project goals.
Our Recommendations
This teen game development camp is a great step if you are considering studying computer science in college, or if you want to explore game development as a potential career direction. Learn the basics of game design for PC, Mac, web, and more! Feel free to call us at 1-888-709-8324 so that we can make personal recommendations, should you need assistance.
Where Is This Unity Course Offered?
California - Northern

California - Southern

Illinois
Massachusetts

New York

North Carolina
Overnight Program
Ages: 13-18
Check-In: 6pm Sunday
Pick-Up: 3-4pm Fri (varies by site)
Tuition: From $3,799 (per 2-week session)
Meals: Included
Please note: Prices are in US Dollars. All taxes included. In addition to the prices listed above, there will be a one-time Safety & Compliance Fee of $20 per student per year. Additionally, a minimum deposit of US $500 is required at the time of registration. Academy sessions are two weeks in length and are all-inclusive of meals, housing, instruction, and supervision. For beginner to advanced students, we offer intensive, pre-college courses in game design, game programming, level design, and 3D modeling & animation. Programs are held at top academic institutions and availability varies by location. Please check your site of choice for specific course offerings.
Your Tuition Includes:
8:1 student-to-instructor ratio (guaranteed)
Diploma with transcript and instructor insights
Final portfolio and software discounts
Custom Academy t-shirt, H2O bottle
Outdoor time, campus tours (most locations)
Gaming tournaments
Access to online curriculum (iD Game Plan)

Weekend Stays
Add $379 per weekend
We invite you to stay the weekend BETWEEN the two weeks—most students elect to stay. Room, board, activities, excursions, meals, and supervision are included over the weekend. You're also welcome to stay the weekend AFTER your 2-week program. Please note: Program availability varies by location—please check your site of choice for specific course offerings.

Continuing Education Units
Add $198 per 2-week session
Gain a competitive edge for college—Accredited Continuing Education Units issued by Villanova University are available for purchase upon registration.
Tech Rocket (Online Learning)
Add $179 (annual subscription)
Build your STEM skills year-round with our online subscription service. Learn from tech tutorials, compete in gaming tournaments, and stay connected through community forums. Tech Rocket is the perfect add-on to iD Programming Academy.
University Immersion
Teens experience independent college life in a supervised environment. This pre-college program is overnight-only, so teens stay in real college dorms, eat in dining halls and get a feel for daily life on campus. Choose the recommended Weekend Stays option to have even more time to explore campus and local attractions.
Portfolio Building
Establishing a portfolio sets our participants apart from their peers on college and internship applications. Finished portfolios include a bio page and samples of completed projects.
Accredited Continuing Education Units
Build up your resume for college by earning Continuing Education Units. Receive an official transcript from Villanova University (available for purchase at all Academy locations). CEU Credits demonstrate that students have completed course content of college-level difficulty.
Gaming Tournaments
Game on! Expect late-night NVIDIA-powered gaming tournaments with Team Fortress 2. Other games available for recreational gameplay include Counter-Strike, Half-Life 2, Left 4 Dead 2, and more. Gaming tournaments do not infringe on instructional time.
Industry Insights
Get a feel for future career options and meet industry professionals. Depending on session location and availability, students tour big-name studios like Hi-Rez Studios, Turbine, Inc., Electronic Arts, CipherPrime and more.
Instruction
Discover what sets our teaching style apart.
8:1 Staff Ratio Guarantee
We guarantee small class sizes, with a maximum of 8 students per instructor. At iD, our teaching philosophy is premised on personalization—your path, at your pace. Passionate, all-adult instructors guide you through tailored curriculum with one-on-one teaching. The immersive environment is ideal for fostering creativity and allowing you to reach your learning potential. Read more about our 8:1 iD Guarantee.
Two-week, Intensive Courses | High-Level Curriculum
Our 2-week courses at the Academy provide you with the right amount of time to get comfortable in your field of study and put your knowledge to use with hands-on projects. You'll have ample time to work on your online portfolio, enjoy excursions and tours of nearby facilities, relax with late-night gaming tournaments, and explore campus (Weekend Stays optional).
Other Activities
You can expect roughly 6-7 hours a day of instruction, with plenty of time for campus excursions, socializing, outdoor activities, video game tournaments, and more. Parents want peace-of-mind and student supervision—teens want a taste of independence. We work hard to provide the right balance. We hope to make your experience valuable and memorable.
All-Adult Staff
Our entire staff is comprised of adults ages 18 and over. We do not hire Counselors-in-Training (CITs) at our summer technology camps. We believe you learn best from adults who have mastered their technology skills. Some of our instructors are tech industry professionals. Others are graduate and undergraduate students majoring in the fields of computer science, engineering, app development, film, and other related fields. We're extremely selective when it comes to our summer staff.
Friday Launch Party for Families
On the last day of the two-week program during the Launch Party, instructors present each student with a personalized iD Tech Diploma and recap students' key accomplishments. Afterwards, students unveil their final projects to parents and siblings, demonstrating all that they learned in just two weeks at the Academy.
Reviews
Game Dev Camp Reviews & Testimonials
"This is our son's first experience with iD. We couldn't be more pleased with the instruction and the overall experience."

- Todd A., Parent,

Game Development With Unity

"We were so happy to know our son was here having an incredible experience."

- Guadalupe J., Parent,

Game Development With Unity

"Thank you for a fun program."

- Therese O., Parent,

Game Development With Unity

"THE BEST EXPERIENCE I'VE EVER HAD! THANKS SO MUCH iD. My project rocks and was super fun, met a lot of new people, and won the biggest prize. LOVED IT!"

- Marcelo P., Student,

Game Development With Unity

"My time at iD was better than I thought it'd be. The instructors were all very nice. I made a lot of friends too."

- Dana S., Student,

Game Development With Unity

It was fun and my instructor pretty much let me use my existing skills to move ahead of the class."

- Samuel B., Student,

Game Development With Unity