Minecraft Game Development

iD Game Design & Development Academy
Minecraft Game Development Course
Summer Minecraft Development Course for Teens Ages 13-18
Division

iD Game Design & Development Academy

Ages

13-18 (Must turn 13 by 12-31-15)

Skill Level

Beg - Adv
Ratio Guarantee

8 students per instructor

Prerequisite

None

Software

Minecraft, Eclipse®
Course Description
Learn the dynamics of game development in the ever-expanding world of Minecraft. Start by learning Java™ fundamentals along with Minecraft tools and techniques. Once you've set the foundation, start building! Utilize game design strategies and create compelling levels while reinforcing your new Java™ skills by programming Minecraft mods, including custom blocks or armor sets.
Other Activities
You can expect roughly 6-7 hours a day of class instruction, with plenty of time for campus excursions, socializing, outdoor activities, video game tournaments, and more. Parents want peace-of-mind and student supervision—teens want a taste of independence. At iD, we work hard to provide the right balance. We hope to make your experience valuable and memorable.
Week One: Utilizing Java™and Minecraft, start learning the skills needed to write your own Minecraft modification. Learn how to work with variables, data types, operators, and more! Throughout the week, you will also learn about game design principles using Minecraft and its endless 3D possibilities. Imagination is the only thing that limits what you can create. Design your own world then put your skills to the test by analyzing the code structure of Minecraft modifications and adding your owns blocks to the game.
Week Two: Start your second week reviewing crucial topics in Java™ and then get ready to dig deep into Minecraft modification. Apply your new coding skills and see your progress in your own, custom world! Create special powers for you and your friends, develop your own crafting recipes, design your own armor sets, and more. Wrap up your experience with a portfolio of Minecraft modifications you and your friends can play at home.
California - Northern

Georgia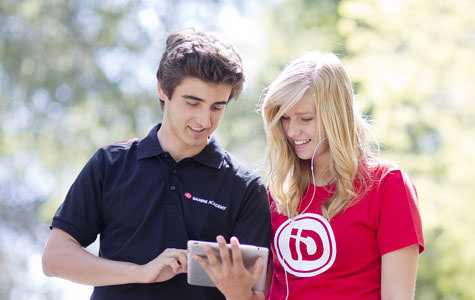 Is This Course for You?
This game development course is for ages 13-18 (Min Age: Must turn 13 by 12-31-15).
There are no prerequisites for this teen game design camp except for the desire to learn both game development and game design techniques.
Our ever-evolving curriculum is designed for beginner through intermediate learners allowing students to move along at their own pace with customized lessons for a fun and appropriate challenge. Instructors work closely with students and adjust the curriculum to fit their progress and their project goals.
You'll Learn to:
Create and publish Minecraft mods
Program new mobs, items, and blocks in Java™
Add new behavior to Minecraft with Java™ programming
Use object-oriented programming concepts
Work with programming libraries using Forge Modloader
Achieve game balance through playtesting
Top Skills Gained
Software & Hardware Skills Development
STEM & 21st Century Skills Development
Creativity
Problem-solving
Program debugging
Project planning
Our Recommendations
This teen Minecraft game design camp is a great step if you are considering studying game design in college, or if you want to explore this field for a potential career direction. Learn the basics of game development from top instructors with industry experience!
Feel free to call us at 1-888-709-TECH (8324) so that we can make personal recommendations, should you need assistance.
Instruction
Discover what sets our teaching style apart.
8:1 Staff Ratio Guarantee
We guarantee small class sizes, with a maximum of 8 students per instructor. At iD, our teaching philosophy is premised on personalization—your path, at your pace. Passionate, all-adult instructors guide you through customized curriculum with one-on-one teaching. The immersive environment is ideal for fostering creativity and allowing you to reach your learning potential. Read more about our 8:1 iD Guarantee.
Two-week, Intensive Courses | High-Level Curriculum
Our 2-week courses at the Academy provide you with the right amount of time to get comfortable in your field of study and put your knowledge to use with hands-on projects. You'll have ample time to work on your online portfolio, enjoy excursions and tours of nearby facilities, relax with late-night gaming tournaments, and explore campus (Weekend Stays optional).
All-Adult Staff | No Counselors-in-Training
Our entire staff is comprised of adults ages 18 and over. We do not hire Counselors-in-Training (CITs) at our summer technology camps. We believe you learn best from adults who have mastered their technology skills. Some of our instructors are tech industry professionals. Others are graduate and undergraduate students majoring in the fields of Computer Science, Computer Engineering, App Design, Film, and other related fields. We're extremely selective when it comes to our summer staff.
Overnight Program
Ages: 13-18
Check-In: 6pm Sunday
Pick-Up: 3-4pm Fri (varies by site)
Tuition: From $3,699-4,099 (per 2-week session)
Meals: Included
Academy sessions are two weeks in length and are all-inclusive of meals, housing, instruction, and supervision. For beginner to advanced students, we offer intensive, pre-college courses in game design, game programming, level design, and 3D modeling & animation. Programs are held at top academic institutions.Please note: Program availability varies by location—please check your site of choice for specific course offerings. A minimum deposit of US $500 is required at the time of registration.
Your Tuition Includes:
8:1 student to instructor ratio guarantee 

Diploma with instructor insights

Final project portfolio with USB drive

Custom iD T-shirt and H2O bottle

Software specials (most courses)

Access to online curriculum after camp
Campus tours (most locations)

Studio tours (most locations)

Outdoor activities

Gaming tournaments 

New skills and self-confidence

Weekend Stays
Add $379 per weekend
We invite you to stay the weekend BETWEEN the two weeks—most students elect to stay. Room, board, activities, excursions, meals, and supervision are included over the weekend. You're also welcome to stay the weekend AFTER your 2-week program. Please note: Program availability varies by location—please check your site of choice for specific course offerings.

Continuing Education Units
Add $198 per 2-week session
Gain a competitive edge for college—Accredited Continuing Education Units issued by Villanova University are available for purchase upon registration.
Tech Rocket (Online Learning)
Add $179 (annual subscription)
Build your STEM skills year-round with our online subscription service. Learn from tech tutorials, compete in gaming tournaments, and stay connected through community forums. Tech Rocket is the perfect add-on to iD Programming Academy.
University Immersion
Teens experience independent college life in a supervised environment. This pre-college program is overnight-only, so teens stay in real college dorms, eat in dining halls and get a feel for daily life on campus. Choose the recommended Weekend Stays option to have even more time to explore campus and local attractions.
Portfolio Building
Establishing a portfolio sets our participants apart from their peers on college and internship applications. Finished portfolios include a bio page and samples of completed projects.
Accredited Continuing Education Units
Build up your resume for college by earning Continuing Education Units. Receive an official transcript from Villanova University (available for purchase at all Academy locations). CEU Credits demonstrate that students have completed course content of college-level difficulty.
Gaming Tournaments
Game on! Expect late-night NVIDIA®-powered gaming tournaments with Team Fortress® 2. Other games available for recreational gameplay include Portal™ 2, Counter-Strike®, Half-Life® 2, Left 4 Dead™ 2, and more. Gaming tournaments do not infringe on instructional time.
Tour a Gaming Studio
Get a feel for future career options and meet industry professionals. Depending on session location and availability, students tour big-name studios like Hi-Rez Studios, Turbine, Inc., Electronic Arts, CipherPrime and more.
Reviews
Minecraft Game Development Camp Reviews & Testimonials
What Parents Are Saying
"All was great. My daughter is excited, and we look forward to coming back." -Lina M., Parent, Minecraft Game Development
"Our son had such a positive experience. He asks to come back again and again. This was his first time at the sleep over camp. He loved it. Thank you." -Jody P., Parent, Minecraft Game Development
"I am amazed at what my son has learned and accomplished in a short two weeks! I know that he will definitely want to return next year, possibly as an instructor some day!" -Parent, Minecraft Game Development
"Gave us a sense of confidence that our son was being cared for in our absence." -Christine Y., Parent, Minecraft Game Development
"I'm am so impressed with your program. I couldn't ask for anything more." -Elbert O., Parent, Minecraft Game Development
What Students Are Saying
"iD is a fun and enjoyable camp. I learned a lot, but it was fun. Normally learning isn't enjoyable. The staff were nice and caring. There were a lot of fun activities that went on through out the camp. All in all the camp was an enjoyable and amazing experience." -Alexander S., Student, Minecraft Game Development
"I can think of no better organization that adequately prepares us for Video Game Design. I can't wait to get involved with iD again!" -Kenji Y., Student, Minecraft Game Development
"A good place to meet people and make friends with others who share common interests with you." -Jewel J., Student, Minecraft Game Development
"I love making mods and learning how to code it was fun and educational." -Vedant M., Student, Minecraft Game Development
"Had much more fun than I thought I would!" -Grant R., Student, Minecraft Game Development
Frequently Asked Questions
Why is the iD Game Design & Development Academy the nation's premiere pre-college destination to learn essential game design skills, game development skills, and STEM skills?

How are Academy courses different from the courses at iD Tech Camps?

Where is this course offered?

How much does this course cost?

Are there teen summer camp savings?

What are the dates of this course?

How do I know if this course is open for enrollment?
How do I register?

Registering online is the fastest way to get into a program. View all iD Tech Summer Courses.

What if the curriculum is too easy or too hard once the course starts?

Academy programs are taught in small, personalized classes. Instructors are able to work closely with each student to customize the course curriculum to each student's skill and experience level. Whether you are a beginner or extremely advanced, our instructors find fun and challenging ways to develop your tech skills. If you have a particular goal or project idea, instructors will work with you and guide you.

Do I need to bring any computer equipment to camp?

No, you do not need to a bring a personal computer to camp. Each student is provided with a computer at camp; you'll never have to share a computer. We supply all the hardware, software and course materials.

What "off-computer" activities are there?

Our teen programs are academic camps, but we also create a fun summer experience. The intensive curriculum and lab time are balanced out with cool excursions, trips to nearby studios and fun down time activities like gaming tournaments. Students may participate in organized outdoor sports, movie nights, campus tours, and more. Since this is a teen-only program, we try to allow students as much freedom as possible in shaping their own weeks - but students are supervised.

Do you provide transportation for students? What about Carpooling?

We do not arrange transportation for our students. All transportation to and from camp is the responsibility of the parent/guardian. There are child transportation services that past students have utilized, which can be found through a web search. We are not affiliated with any such company and thus cannot be held accountable for clients' use of outside transportation services.

Who should I contact with questions or concerns?

You can phone us as at 1-888-709-TECH (8324) or 1-408-871-2227, or email us at info@iDTech.com. If you'd like a brochure sent to you, please click here.