North Carolina State University Summer Tech Camps

NC State summer camps for kids & teens
Computer Camps Held at NC State
In 1999, our independent family company set out to reinvent "camp" for the 21st century. Today, we're the number #1 tech camp on the planet, with summer technology programs for kids and teens held at over 100 campuses nationwide. At North Carolina State University in Raleigh, NC, we offer co-ed iD Tech Camps for ages 7-17. Learn code, game design, app development, web design, film, photography, and more. Kick-start your dream job and gain a competitive edge for college!
At select locations, other co-ed options include intensive 2-week, pre-college iD Tech Academies for teens ages 13-18 and iD Tech Mini for ages 6-9. We also offer Alexa Café, an all-girls program for ages 10-15. Experience personalized learning with a maximum of 8 students per instructor, and use the best brand name products from industry leaders like Adobe®, Apple®, Autodesk®, Google, and Microsoft®. Innovative courses. Your pace. Your internalDrive.
Summer 2015 Courses & Dates
iD Tech Camps Program Details
Co-Ed | Weeklong | Programming, Game Design, Apps, Robotics, Web Design, Film, Photography, and More
Our summer computer camps for kids, pre-teens, and teens are segmented by course and age. Teens will study, socialize and eat with other teens, but may be in the vicinity of younger students during lab time. Yes, we're a tech camp, but we do not sit in front of digital devices all day. We provide a well-balanced, fun summer camp experience that is age-appropriate for kids, pre-teens, and teens. Imagine a small group learning environment where the curriculum is tailored to you. A place where you build critical 21st century STEM (Science, Technology, Engineering, and Math) skills in intimate clusters of just 8 students maximum per instructor, and collaborate with new friends.
You'll gain confidence, explore a unique college campus, and get a taste of the collegiate experience. This isn't just camp. It's a portal to a fulfilling future, in college and beyond. Kids camps and teen camps encompass courses in programming with Java™, C++, Python™, Scratch, and more, app development with iPhone® and Android™, Minecraft, modding, FPS and RPG game design, robotics engineering with VEX® and LEGO®, 3D modeling & animation, filmmaking, photography, and web design. Course offerings vary by site. View courses at this location. Beginner or advanced, you'll get inspired by energetic, tech-savvy instructors. Do something big this summer!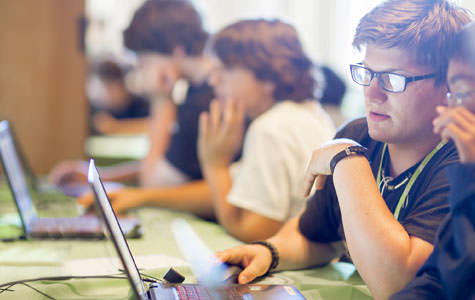 Learning
8:1 Ratio Guarantee: We do it differently—this isn't school. We guarantee 8 students per instructor for personalized learning. Every time.
Personalized Instruction: Your path, at your pace. Most of our courses are beginner through advanced. If a course has prerequisites, you'll be notified during registration. You'll be immersed in a blended learning environment using our iD Game Plan 2.0 engine, along with one-on-one instruction from our team of educators. Our approach allows you to learn at an appropriate, customized pace.
Project-Based Curriculum: At iD, you learn by doing—it's hands-on. You'll work with industry-standard hardware and software, complete a final project, create an online portfolio, and bring your new tech knowledge into the real world.
Staff
All-Adult Instructors: We don't cut corners by hiring Counselors-in-Training. Instead, we employ energetic, tech-savvy, all-adult instructors to teach our courses and supervise our kids and teens. We recruit from thousands of candidates, and select from the best. It doesn't hurt that we've been named a Top Workplace 6 years in a row, and that we have the reputation as the #1 Tech Camp on the planet. The top talent works at iD.
Best of the Best: Many iD Tech instructors are students or graduates of prestigious universities like Stanford, MIT, Princeton, and Yale. Some are industry professionals. Others began as iD students and have returned to give back to the next generation of innovators!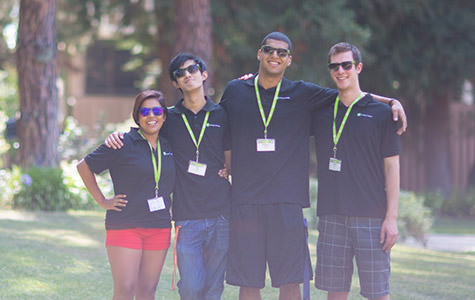 Meals
A Taste of College: We eat right in the university dining halls! (If the dining hall is closed, we will bring in catered meals or eat in the university food court). Meal plans are available for Day Campers and Overnight Campers. The food is generally good at most campuses. More and more campuses are paying attention to important details like organic and sustainably-farmed food sources, kosher and vegetarian options, and a variety of overall healthier options.
Safety & Risk Management
American Camp Association® Accreditation: iD Tech Camps is accredited by the Southern California Region of the ACA—and we spread those best practices to each of our programs across the country. Being ACA accredited means we have met over 300 health and safety requirements.
Background Checks: We conduct criminal background checks, sexual offender background checks, multiple reference checks and identification checks on all camp staff members.
CPR & First-Aid: All program locations are staffed with CPR Certified Directors and Instructors.
Risk Management Training: Our staff members attend in-person risk management training, and our content is updated every year as conditions change.
Tuition
The following are included in tuition cost:
Custom iD t-shirt
iD Diploma with instructor insights
8:1 student to instructor ratio guarantee
Final project portfolio with pen drive
Access to online curriculum after camp
Campus tours (most locations)
Outdoor activities
Gaming tournaments
Software savings (most courses)
New skills and self-confidence
Optional Add-Ons
Click here to learn about our Tuition Assistance Program.
This is our 2nd season hosting Raleigh, NC summer camps at North Carolina State University. The university is commonly referred to as "NC State" or simply "State," and is a part of the University of North Carolina system. It is a land, sea, and space grant institution. The main campus is known for its distinctive red brick architecture.Nickname: The WolfpackFounded: 1887Schools & Colleges at NC State: Colleges of Agriculture and Life Sciences, Design, Education, Engineering, Natural Resources, Humanities and Social Sciences, Management, Physical and Mathematical Sciences, Textiles, and Veterinary Medicine.Student Population: 34,000Campus: This 2,110-acre campus is situated west of downtown Raleigh. NC State is comprised of a central campus, the College of Veterinary Medicine complex and Centennial Campus, and a massive research and technology-transfer "technopolis." NC State owns multiple research stations, outreach centers, and extension facilities across North Carolina.Degrees: The university offers bachelor's degrees in 100 fields of study, master's degrees in 101 fields, and doctoral degrees in 59 fields. Over 5,200 degrees are distributed each year.
Campus Info: Held at NC State
Please note: Map and campus details are for general information only. Once you enroll, you will have access to our specific location on campus.
Testimonials from NC State
What Parents Are Saying
"Best camp ever. He cannot wait to come back next year." –Michael R., Parent, NC State
"This iD tech camp is the ONE CAMP my child actually enjoys attending!!" –Sabah M., Parent, NC State
"This is our 5th camp experience with iD Tech and we have loved it every time. Thank you for opening a camp at NCSU as well. It's so wonderful that my son can have a camp where he fits in so well." –Susan A., Parent, NC State
What Campers Are Saying
"iD Tech camp was fun and exciting and one of the best summer camps I have ever been to." –Madeleine E., Student, NC State
"This was by far the most fun I have ever had at a camp." –Wellington W., Student, NC State
"This camp is AWESOME! Everyone has fun, the counselors are fun, and there are so many things to do." –Adam M., Student, NC State