iD Game Design & Development Academy Held at Emory University

Summer Courses for Teens Ages 13-18
iD Game Design & Development Academy at Emory
In 1999, our independent family company set out to reinvent "camp" for the 21st century. Today, we're the number #1 tech camp on the planet, with summer technology programs for kids and teens held at over 100 prestigious campuses nationwide. At Emory University in the Atlanta, GA area, we offer three distinct co-ed programs: iD Game Design & Development Academy and iD Programming Academy for teens ages 13-18, and iD Tech Camps for ages 7-17.
At select locations, we also offer Alexa Café and iD Tech Mini. Across all programs, you'll experience personalized learning with a maximum of 8 students per instructor, and use the best brand name products from industry leaders like Adobe®, Apple®, Autodesk®, Google, and Microsoft®. Innovative courses. Your pace. Your internalDrive.
Summer 2015 Courses & Dates
iD Game Design & Development Academy Program Details
Co-ed | 2 Weeks | Intensive, Pre-College | Video Game Design and Development, Level Design, 3D Modeling & Animation
At iD Game Design & Development Academy, we offer 2-week, intensive programs covering game development, game programming, level design, and 3D modeling. Courses are for beginner to advanced teens ages 13-18. Work with industry-standard applications like Autodesk® Maya®, Adobe® Photoshop®, Unreal® Engine, and more. At our video game camp for teens, you'll learn from elite faculty, create your own game development portfolio, tour a major game studio, meet new friends, and get a taste of the collegiate lifestyle. This summer, pursue your talents and passions, and gain a competitive advantage for college and beyond.
Choose from game design camps, 3D modeling & animation courses, 3D level design classes, and more, designed to prepare you for college and your dream career. View all courses at this location.
Work with professional software from industry leaders including Microsoft®, Autodesk®, and Unity
Learn from qualified, adult faculty in small, personalized classes of 8 students maximum, guaranteed
Tour a major game design studio and gain insight from industry professionals
Show off your gaming skills in LAN tournaments (after instructional time)
Graduate with an online portfolio
Receive an (optional) Official Transcript with Continuing Education Units
Win GUNNAR Advanced Gaming Eyewear glasses at each session
Learning
8:1 Ratio Guarantee:

 

We do it differently—this isn't school. We guarantee 8 students per instructor for personalized learning. Every time.
Personalized Instruction:

 

Your path, at your pace. Most of our courses are beginner through advanced. If a course has prerequisites, you'll be notified during registration. You'll be immersed in a blended learning environment using our iD Game Plan 2.0 engine, along with one-on-one instruction from our team of educators. Our approach allows you to learn at an appropriate, customized pace.
Project-Based Curriculum:

 

At iD, you learn by doing—it's hands-on. You'll work with industry-standard hardware and software, complete a final project, create an online portfolio, and bring your new tech knowledge into the real world.
Faculty
All-Adult Instructors:

 

We don't cut corners by hiring Counselors-in-Training. Instead, we employ energetic, tech-savvy, all-adult instructors to teach our courses and supervise our kids and teens. We recruit from thousands of candidates, and select from the best. It doesn't hurt that we've been named a

 

Top Workplace

 6

 years in a row, and that we have the reputation as the #1 Tech Camp on the planet. The top talent works at iD.
Best of the Best:

 

Many iD instructors are students or graduates of prestigious universities like Stanford, MIT, Princeton, and Yale. Some are industry professionals. Others began as iD students and have returned to give back to the next generation of innovators!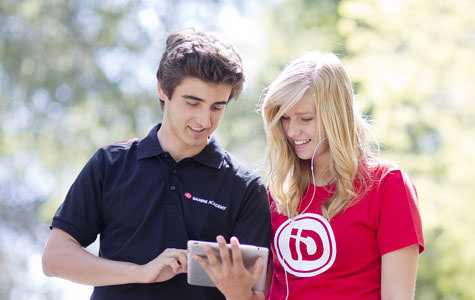 Meals
A Taste of College:

 

We eat right in the university dining halls! (If the dining hall is closed, we will bring in catered meals or eat in the university food court). The food is generally good at most campuses. More and more campuses are paying attention to important details like organic and sustainably-farmed food sources, kosher and vegetarian options, and a variety of overall healthier options.
Safety & Risk Management
American Camp Association® Accreditation:

 

iD Tech is accredited by the Southern California Region of the ACA—and we spread those best practices to each of our programs across the country. Being ACA accredited means we have met over 300 health and safety requirements.
Background Checks:

 

We conduct criminal background checks, sexual offender background checks, multiple reference checks and identification checks on all summer staff members.
CPR & First-Aid:

 

All program locations are staffed with CPR Certified Directors and Instructors.
Risk Management Training:

 

Our staff members attend in-person risk management training, and our content is updated every year as conditions change.
Tuition
Tuition cost includes:
 Custom iD t-shirt
 iD Diploma with instructor insights
 8:1 student to instructor ratio guarantee
 Final project portfolio with pen drive
 Access to online curriculum after camp
 Campus tours (most locations)
 Studio tours (most locations)
 Outdoor activities
 Gaming tournaments
 Software savings (most courses)
 New skills and self-confidence
Optional Add-Ons
The state of Georgia is rapidly becoming an internationally recognized gaming hotspot. Both indie game studios and the largest independent game studio, Hi-Rez Studios of Alpharetta, GA, need top talent.
We have chosen the Emory University campus to host our intensive summer teen camps in Georgia because it is home to nine major academic divisions, numerous centers for advanced study, and a host of prestigious affiliated institutions. The iD Game Design & Development Academy is a one-of-a-kind offering for students seeking to get better at the art and science of game development. These Atlanta, GA summer camps are intended for high-school-aged students ages 13-18. As part of the full university experience, students will eat in the campus dining halls and sleep in real dorms. All meals are included.
General Location: Located just 15 minutes from downtown Atlanta in the tree-lined suburban neighborhood of Druid Hills, Emory University is positioned along the Clifton Corridor. These are ideal summer camps for the area near Atlanta. The campus is within walking distance to a small university town center, with restaurants, coffee shops and other local attractions. Atlanta Hartsfield International Airport is located southwest of the city, approximately 25 minutes from Emory. We do not perform airport pick-ups, so if flying in, please make sure to make appropriate arrangements. Come check out our summer camps near Atlanta, Georgia!
Campus Info: Held at Emory University
Please note: Map and campus details are for general information only. Once you enroll, you will have access to our specific location on campus.
Testimonials from Emory University
What Parents Are Saying
"This was an awesome camp for my son. The camp counselors were the best of all!" -Dominique S., Parent, Emory iD Game Design & Development Academy
"I felt my son was safe, and in willing and capable hands the entire time at camp." -Leah N., Parent, Emory iD Game Design & Development Academy
"My son had an awesome time - his instructor was amazing and great at multitasking. I felt very comfortable with the staff and setting." -Lori K., Parent, Emory iD Game Design & Development Academy
"The camp director provided excellent supervision and motivation for my boys." -Sarah C., Parent, Emory iD Game Design & Development Academy
What Students Are Saying
"Being a six year veteran of iD Tech Camps, my experience this year at iD Gaming Academy proved to be amazing as well. My time at the Academy really put me further in touch with career options in gaming." -Patricia H., Student, Emory iD Game Design & Development Academy
"The staff is awesome! Everyone is nice and easy to talk to ... good idea putting this staff together." -Andrew C., Student, Emory iD Game Design & Development Academy
"This was the most fun I have had in a long while." -Da K., Student, Emory iD Game Design & Development Academy
"I had lots of fun at the iD Game Design & Development Academy and am looking forward to returning next year. The instructors made the experience very enjoyable." -Matthew P., Student, Emory iD Game Design & Development Academy
"All of the instructors and the camp director were wonderful and helpful. They made camp extremely fun and provided great guidance." -Erby F., Student, Emory iD Game Design & Development Academy