Movie Making Camp with Adobe® Premiere®

iD Tech Camps Course | Ages 10-12
Movie Making Camp with Adobe® Premiere®
Video Editing & Filmmaking Summer Courses for Kids
Division

iD Tech Camps

Ages

10-12 (Must turn 10 by 12-31-15)

Skill Level

Beg - Adv
Ratio Guarantee

8 students per instructor

Prerequisite

Yes (see below)

Software

Adobe® Premiere®, HD Camcorders
Course Description
Prerequisite: Ability to work in a team
Ready to learn the basics of filming and editing? Shoot with pro-level cameras and see how much fun creative editing can be with the drag-and-drop power of Adobe® Premiere®. Take home a DVD of your final project to show your family and friends.
Express your creativity through the visual medium of motion pictures, and go through all of the elements of film production, including pre-production planning, camera work, and final editing. Get ready to find out why making movies is even more fun than watching them!
Please note: Filmmakers take years to hone their craft. Please have realistic project expectations.
Other Activities
At iD Tech Camps, balance is very important. Our movie making classes are fun and engaging, and completely unlike school. We want you to develop genuine passion for STEM subjects, and keep coming back year after year. If it's not fun—and if you don't learn a lot—we know you won't return. You can expect roughly 5 hours a day of instruction, with plenty of time for supervised breaks, social time, outdoor play, optional sports, video games, and other creative techtivities. Many clients describe the total iD experience as "magical" and "unlike anything else." We work hard to make the experience unique, memorable, and valuable.
Arizona

California - Northern

Santa Clara, CA

Palo Alto, CA

Berkeley, CA

California - Southern

Irvine, CA

Los Angeles, CA

Colorado
District of Columbia

Georgia

Minnesota

New Jersey
New York

North Carolina

Texas

Washington
Is This Course Appropriate for You?
Our digital movie making camps have no prerequisites other than a desire to learn and have fun! Beginner to intermediate students ages 10-12 (Min Age: Must turn 10 by 12-31-15) study individualized curriculum and learn crucial elements of film production from skilled instructors. Curriculum is delivered in small student clusters and all students will go home with a completed project at the end of the week.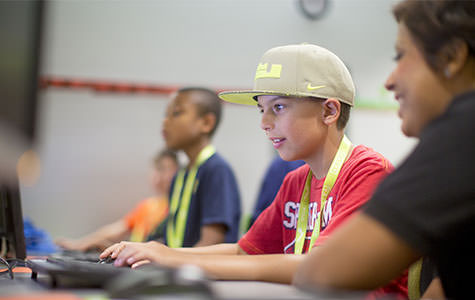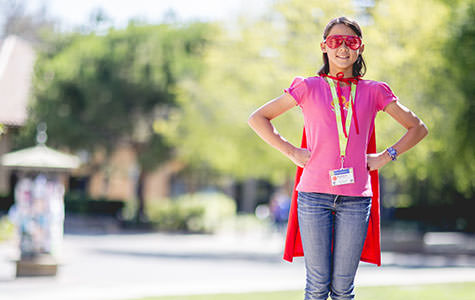 You'll Learn to:
Prepare a storyboard and shotlist
Use color temperature and color theory
Utilize non-linear editing techniques
Implement lighting and cinematography techniques
Top Skills Gained
Software & Hardware Skills Development
Professional industry camcorders
Adobe® Premiere®
STEM & 21st Century Skills Development
Teamwork
Project planning
Creativity
Our Recommendations
If you are interested in the technical components of editing, this moviemaking camp is for you. With our customizable curriculum, summer film camp is perfect for beginning film students as well as advanced filmmakers. Don't just watch movies, go behind the scenes!
Feel free to call us at 1-888-709-TECH (8324) so that we can make personal recommendations, should you need assistance.
Instruction
Discover what sets our teaching style apart.
8:1 Staff Ratio Guarantee
We guarantee small class sizes, with a maximum of 8 students per instructor. At iD, our teaching philosophy is premised on personalization—your path, at your pace. Passionate, all-adult instructors guide you through customized curriculum with one-on-one teaching. The immersive environment is ideal for fostering creativity and allowing you to reach your learning potential. Read more about our 8:1 iD Guarantee.
How We Teach | Personalized Instruction
Our tech curriculum is based on a blended learning strategy. We couple live one-on-one instruction with iD Game Plan, our innovative learning engine, to provide you with properly paced learning. Most of our courses at iD Tech Camps are for beginner through advanced students.You'll spend approximately 5 hours on the computer each day, balanced with a common-sense dose of outdoor fun. We take frequent breaks and play outside. Up for an organized sport? So are we! Grab a disc and arrange a game of Ultimate Frisbee. We also provide chess sets, board games, cards, and a variety of traditional summer camp activities. Our goal is to make learning fun, so that students want to keep coming back to learn more each year.
All-Adult Staff | No Counselors-in-Training
Our entire staff is comprised of adults ages 18 and over. We do not hire Counselors-in-Training (CITs) at our summer technology camps. We believe you learn best from adults who have mastered their technology skills. Some of our instructors are tech industry professionals. Others are graduate and undergraduate students majoring in the fields of Computer Science, Computer Engineering, App Design, Film, and other related fields. We're extremely selective when it comes to our camp staff.
An Hour of Coding for Every Student
Careers in computer science are growing at twice the national average, meaning over 1 million STEM jobs may go unfilled by 2020 due to a shortage of qualified programmers. To prepare students for the future, we have incorporated an hour of coding into all iD Tech Camps courses, inspired by the Code.org Hour of Code™. Whether you enroll in web design, video game development, filmmaking, photography, robotics, 3D modeling & animation, or app development courses, you'll be exposed to coding at over 100 prestigious campus locations nationwide. When the official weeklong Code.org Hour of Code event launched last December, nearly 20 million students discovered programming in schools, workplaces, and communities nationwide, as well as online. Our new initiative will impact tens of thousands of students ages 7-17 this summer, sparking the interest of participants who may otherwise not try coding.
Day Camp
Ages: 7-17
Check-In: 8-9am Mon-Fri
Pick-Up: 5-6pm Mon-Thurs, Fri 3-4pm (varies by site)
Tuition: From $799-1,079/week USD. All taxes included.
Commuter Lunch Plan: Lunch can be purchased for an additional $60/week
Overnight Camp
Ages: 10-17
Check-In: Sunday 6pm
Pick-Up: Friday 3-4pm (times may vary)
All Inclusive: Add $549-$649/week USD. All taxes included.
Meals: All meals included
Your Tuition Includes:
8:1 student-to-instructor ratio guarantee
Diploma with instructor insights
Final project portfolio with USB drive
Custom iD T-shirt and H2O bottle
Access to online curriculum after camp
Gaming tournaments
Outdoor activities
Campus tours (most locations)
Software specials (most courses)
New skills and self-confidence
Tech Rocket
Add $179 (annual subscription)
Tech Rocket is the #1 online learning destinationfor kids and teens. Aspiring app programmer?Indie game developer? Graphic artist? You got this! Level up your tech skills and build community with thousands of other students. With gaming tournaments, safe, collaborative forums, a massive Minecraft server, and an aracde, Tech Rocket makes learning fun all year long. It's the perfect complement to our summer programs!

Ultimate Gaming Weekends
Add $379 per weekend
Ultimate Gaming Weeknds (UGWs) are offered at select iD Tech Camps locations for ages 10+, and are intended to bridge the gap for students attending 2 consecutive weeklong camp sessions. You may also stay the weekend after your session. UGWs can be selected as an add-on during registration. Students who stay the weekend can expect campus excursions, gaming tournaments, and a variety of fun indoor and outdoor summer activities.

Continuing Education Units
Add $99 per week
Gain a competitive advantage for college! Teens ages 13-17 attending iD Tech Camps have the option to purchase  accredited Continuing Education Units (CEUs), issued by Villanova University. CEUs are nationally recognized units of measurement for participation in non-credit continuing education programs. CEUs are not transferrable as college credit.
7:30am: Overnight Campers, rise and shine! Eat breakfast in the campus dining hall—breakfast is typically all-you-can-eat, and consists of favorites such as sausages, pancakes, orange juice, cereal, waffles, and fruit.
8am-9am: Check-in. All Campers meet for morning announcements, ice breakers, and team-building activities.
9:30am: Split into course groups and let the tech fun begin! Breaks are taken at the discretion of each instructor. Younger students will take more frequent breaks.
12pm: Lunch time—head to the dining hall if you're on the iD Meal Plan. Depending on the policy of each university, students who bring their own bag lunch will either eat in the dining hall with the rest of the crew, or laze under a shady tree outside with an iD instructor.
1pm: Back to the labs!
2:30pm: A game of Ultimate Frisbee, anyone? Capture the flag? Gaming tournaments? Board games? Optional sports? We offer many summer camp activities that vary by week and location. Beyond STEM skill development, students will socialize, make friends, and have fun.
3:30pm: Return to the labs. Let's create!
5pm: Wrap-up your projects for the day.
5pm-6pm: Pick-up time for Day Campers.
6pm: Dinner for Overnight Campers.
7pm: Overnight Camp students participate in supervised recreational activities such as optional sports, gaming tournaments, and movie nights. In some cases, students can continue working on their projects, as scheduling permits.
10pm: Lights out for Overnight Campers.
Reviews
Filmmaking Camp Reviews & Testimonials
What Parents Are Saying
"Rohan learned a lot about movie production and he is very excited to follow up on what he learned." -Sunil S., Parent, Movie Making Camp with Adobe® Premiere®
"My kids had a great time. The staff was friendly and knowledgeable and made my kids feel welcome from the first moment they arrived. They looked forward to camp each day and were excited to talk about the progress they were making on their projects. A great first experience at iD Tech." -Mairav M., Parent, Movie Making Camp with Adobe® Premiere®
"The instructors were amazing! The girls had a blast learning a lot of cool stuff :-)" -Tristen U., Parent, Movie Making Camp with Adobe® Premiere®
"Our kids really enjoyed this week making movies. Their instructor really found a great way to convey the parts of making movies, shooting film, and then cutting final projects. They couldn't wait to get back in the morning. Nice work." -Tim D., Parent, Movie Making Camp with Adobe® Premiere®
"Once again, a an unbelievable experience! We are repeat campers and will repeat again! Exceeded all our expectations again!" -Philip P., Parent, Movie Making Camp with Adobe® Premiere®
What Campers Are Saying
"iD Tech was one of the most fun things i've done this summer, and I know that I will come back next year!" -Gerald L., Student, Movie Making Camp with Adobe® Premiere®
"I was pleasantly surprised by how good iD Tech Camps was. When I showed up I wasn't sure that I'd make any friends or have fun, but I was quickly proved wrong. The instructors were very fun and made everyday more enjoyable. In my opinion it is the best summer camp I've ever been to." -Samantha K., Student, Movie Making Camp with Adobe® Premiere®
"I think that this week was VERY fun!! The camp counselors really helped with overall enjoyment of camp...they were fun and supportive! You can trust that you will have a good time at the camp!" -Mariana T., Student, Movie Making Camp with Adobe® Premiere®
"I had a lot of fun! The instructors and campers were really friendly and I learned a lot about movie making!" -Lara Z., Student, Movie Making Camp with Adobe® Premiere®
"I learned how to take my fun little homemade "movies" to the next level with one of iD's Movie Making Camps. I am coming back next summer for more!" -Maggie C., Student, Movie Making Camp with Adobe® Premiere®
Frequently Asked Questions
Why is iD Tech Camps the World's #1 Tech Camp?

-Guaranteed staff ratios of 8 students per instructor-Qualified, tech-savvy staff customize the curriculum-Innovative curriculum powered by iD Game Plan-The latest tech products from Autodesk®, Adobe®, Google, Apple®, Microsoft®, etc.-The university experience-Age-appropriate kids camps plus more intensive teen-only programs

Where and when is this course offered?

This course is offered at top universities across the United States. View Locations & Dates.

How much do your camps cost?

Please visit our Tuition page.

Can you tell me more about your flex hours?

We know you're busy. Commuting students participating in our day camps can check-in between 8am-9am daily, and check-out between 5pm-6m. There is no extra cost for flex hours—it's built into tuition.

What if I get sick, have summer school, or need to make changes?

You can register now and make as many changes as you like (locations, dates, courses, etc.) up until 3 weeks to the start of your session—with no change fees. Once inside the 3-week window, there is a $35 change fee.You can transfer your registration to a family member or friend. Should you need to cancel because of summer school, family vacation, etc., there is a $250 non-refundable deposit per week. Cancellations made within 3 weeks of the start of camp will be charged the full value of the tuition and are not refundable.

How do I find out if the course I want is still open for enrollment?

For info, check Locations & Dates.

How do I register?

Registering online is the fastest way to get into camp. Visit Tech Camps for Kids or All Teen Programs.Or, call us at 1-888-709-TECH (8324) or 1-408-871-2227 to register by phone. You can also email us at info@iDTech.com.

I loved this course! Can I take it again?

Yes, you can take a course multiple times. You can choose to repeat the same course, building on your skills. Our curriculum is very deep, and has enough challenging content for a full summer. Another popular option is to enroll in a different course each week, thereby gaining a comprehensive introduction to a certain tech genre. It is beneficial to develop well-rounded skills in video game design, programming, photography & filmmaking, web design and more.

What do campers eat?

All meals are included with our overnight programs. Day campers have the option of purchasing the lunch plan or bringing a sack lunch. The lunch plan is recommended, but not mandatory. If the lunch plan is purchased, lunch is provided Monday – Friday. Many university dining facilities do not permit outside food to be brought into the dining hall; students bringing bag lunches may eat outside of the dining hall with their classmates and instructors.
Do I need to bring my own computer?

No, you do not need to a bring personal computer to camp. Each student is provided with a computer at camp; you'll never have to share a computer. We supply all the hardware, software and course materials.

What if my student already has experience?

With our continually evolving curriculum, experienced students and iD alumni will be able to move along faster and more independently, or collaborate utilizing our customized lessons. You'll still receive our gold standard one-on-one instruction (maximum of 8 students per instructor, guaranteed).

Do you have any other teen programs?

Yes. Jump to All Teen Programs.

Do you use Macs or PCs at iD Tech Camps?

We use both platforms at our summer computer camps. We attempt to mirror the industry standard in each of our summer camp courses. We find that it is an important skill to be proficient on BOTH platforms.

What "off-computer" activities are there?

Balance is the key to every week at iD. While we are in the labs for roughly 5 hours daily, we take time out for outdoor activities. Choose from organized outdoor games, movie nights, talent shows, additional gaming competitions, and campus tours. Activities are divided by age and interest whenever possible, and may vary by location.

Where do your instructors come from?

Our staff is family. Each member of our team comes to us with a blend of spirit, energy, enthusiasm, knowledge of technology, and experience with kids and teens. Our goal is to ensure that every location is comprised of skillful, returning camp counselors along with new instructors who bring a fresh perspective to camp.Many of our instructors are graduate and undergraduate students in Education, Engineering, Computer Science, Film, Programming, and other related fields. Often, these instructors come from the same recognized universities where we host our summer programs including Stanford, MIT and Columbia University. Staff members undergo in-person training as well as extensive background checks each summer. We have a great crew that comes back year after year to create a unique and high-energy environment.

Why don't you use Counselors-in-Training?

Distinguishing ourselves from most summer camps, we've respectfully created a "No CIT" policy. This guarantees that each student is instructed and supervised by paid adult staff members, ages 18 and older—not by teenagers of camp age.

Do you provide transportation for students? What about carpooling?

We do not arrange transportation for our students. All transportation to and from camp is the responsibility of the parent/guardian. There are child transportation services that past campers have utilized, which can be found through a web search. We are not affiliated with any such company and thus cannot be held accountable for clients' use of outside transportation services.

How do I contact you?

You can phone us as at 1-888-709-TECH (8324) or 1-408-871-2227, or email us at info@iDTech.com. If you'd like a brochure sent to you, please click here.