Mobile Game Design for iPhone & Android

iD Tech Camps Course | Ages 10-12
Mobile Game Design for iPhone & Android
iPhone and Android Game Design Summer Camp for Kids
Division

iD Tech Camps

Ages

10-12 (Must turn 10 by 12-31-17)

Skill Level

Beg - Adv
Ratio Guarantee

8 students per instructor

Prerequisite

None

Software

Stencyl
Course Description
This is your student's chance to design and build a game to play on their iPhone or Android device. With Stencyl and its user-friendly toolset, they'll use behaviors, events, and physics to create mobile video games—all while learning core principles of game design. This course is an essential step for any aspiring game designer.
Note: If you'd like us to try to install your student's game to a device, it must be officially supported and updated to the latest software version.
What Will Students Take Home?
Students in these mobile game design courses will go home with a game on their mobile device and the .stencyl file that contains their game.
What Will Students Learn?
Students Will Learn to:
Build games with computer or mobile controls
Create platformer, space-invader, and Flappy Bird-style games
Use conditional statements and events
Create characters in Adobe Photoshop
Design game menus and interfaces
Top Skills Gained
Software & Hardware Skills Development
Stencyl
iPhone and Android
STEM & 21st Century Skills Development
Project planning
Problem-solving
Creativity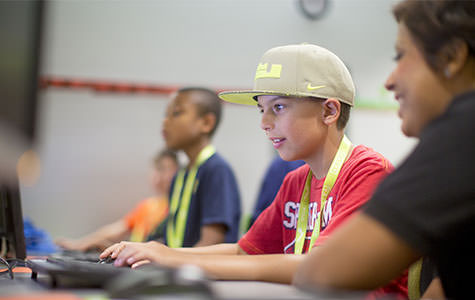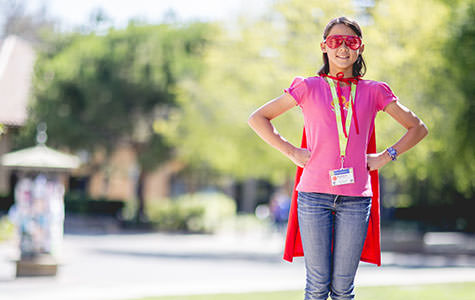 Skill Level | Is This Course Appropriate for Your Student?
This course has no prerequisites other than the desire to turn great ideas into interactive games! Our iPhone game camps are customized for students ages 10-12. Curriculum is delivered in small student clusters and individually tailored to each student so beginner to advanced learners are all challenged at the appropriate level. After learning how to make iPhone games students will go home with copies of their app.
Our Recommendations
This class is perfect for non-programmers who are interested in mobile game creation. Delve into game design and choose from a vast library of Stencyl drag and drop features to bring your ideas to life—all without programming a single line of code. This summer camp is also perfect for creative students just beginning to discover the power of technology and students interested in smartphone app design. Explore the possibility of a career in game creation or publishing iPhone apps. New and returning campers can enroll for multiple weeks to build on their app development skills. Try this iPhone game making camp for one or several weeks or combine it with several other game development camp courses.
Feel free to call us at 1-888-709-8324 so that we can make personal recommendation, should you need assistance.
Where Is This Course Offered?
Arizona

California - Northern

Belmont, CA

Sacramento, CA

San Francisco, CA

Santa Clara, CA

Moraga, CA

Palo Alto, CA

Berkeley, CA

California - Southern

Pomona, CA

Pasadena, CA

Irvine, CA

La Jolla, CA

Los Angeles, CA

San Diego, CA

Colorado

Highlands Ranch, CO

Denver, CO

Connecticut

Fairfield, CT

New Haven, CT

Middletown, CT

District of Columbia

Florida

Boca Raton, FL

Winter Park, FL

Coral Gables, FL

Jacksonville, FL

Georgia

Illinois

Lisle, IL

Chicago, IL

Lake Forest, IL
Indiana

Maryland

Massachusetts

Amherst, MA

Waltham, MA

Franklin, MA

Quincy, MA

Beverly, MA

Cambridge, MA

Cambridge, MA

Southborough, MA

Michigan

Minnesota

Missouri

New Jersey

Madison, NJ

West Long Branch, NJ

Princeton, NJ

Mahwah, NJ

Mt Laurel, NJ

New York

Garden City, NY

New York, NY

New York, NY

New York, NY

New York, NY

Bronxville, NY

Brooklyn, NY

North Carolina

Charlotte, NC

Chapel Hill, NC
Ohio

Cleveland, OH

Columbus, OH

Oregon

Pennsylvania

Pittsburgh, PA

Villanova, PA

West Chester, PA

Tennessee

Memphis, TN

Nashville, TN

Texas

Houston, TX

Dallas, TX

Austin, TX

Richardson, TX

Westlake, TX

Virginia

Washington

Seattle, WA

Tacoma, WA

Seattle, WA

Wisconsin
Day Camp
Ages: 7-17
Check-In: 8-9am Mon-Fri
Pick-Up: 5-6pm Mon-Thurs, Fri 3-4pm (varies by site)
Tuition: From $799/week USD. All taxes included.
Commuter Lunch Plan: Starts at an additional $60/week
Overnight Camp
Ages: 10-17
Check-In: Sunday 6pm
Pick-Up: Friday 3-4pm (times may vary)
All Inclusive: Add $569/week USD. All taxes included.
Meals: All meals included
Please note: In addition to the prices listed above, there will be a one-time Safety & Compliance Fee of $20 per student per year.
Your Tuition Includes:
8:1 student-to-instructor ratio (guaranteed)
Free flex hours at check-in and pick-up
Diploma with transcript and instructor insights
Final project and software discounts
Custom iD Tech t-shirt, H2O bottle
Outdoor time, campus tours (most locations)
Gaming tournaments
Access to online curriculum (iD Game Plan)
Tech Rocket
Add $179 (annual subscription)
Tech Rocket is the #1 online learning destination for kids and teens. Aspiring app programmer? Indie game developer? Graphic artist? You got this! Level up your tech skills and build community with thousands of other students. With gaming tournaments, safe, collaborative forums, a massive Minecraft server, and an arcade, Tech Rocket makes learning fun all year long. It's the perfect complement to our summer programs!

Ultimate Gaming Weekends
Add $379 per weekend
Ultimate Gaming Weekends (UGWs) are offered at select iD Tech Camps locations for ages 10+, and are intended to bridge the gap for students attending 2 consecutive weeklong camp sessions. You may also stay the weekend after your session. UGWs can be selected as an add-on during registration. Students who stay the weekend can expect campus excursions, gaming tournaments, and a variety of fun indoor and outdoor summer activities.

Continuing Education Units
Add $99 per week
Gain a competitive advantage for college! Teens ages 13-17 attending iD Tech Camps have the option to purchase  accredited Continuing Education Units (CEUs), issued by Villanova University. CEUs are nationally recognized units of measurement for participation in non-credit continuing education programs. CEUs are not transferrable as college credit.
7:15am: Overnight campers, rise and shine! Eat breakfast in the campus dining hall—breakfast is typically all-you-can-eat, and consists of favorites such as pancakes, sausages, orange juice, cereal, waffles, and fruit. (Make sure to notify us of any special dietary needs or allergies before camp.)
8–9am: Day campers check-in between 8–9am with our flex hours (no extra cost).
9am: All campers meet for morning announcements, icebreakers, and team-building activities.
9:30am: Split into course groups and let the tech innovation begin! Breaks are taken at the discretion of each instructor. Younger students will take more frequent breaks.
Noon: Lunch time—head to the dining hall if you're on the iD Meal Plan. Depending on the policy of each university, students who bring their own lunch will either eat in the dining hall with the rest of the crew, or gather elsewhere with an iD instructor.
1pm: Back to the labs!
2:30pm: A game of Ultimate Frisbee, anyone? Capture the flag? Board games? Optional sports? We offer many summer camp activities that vary by week and location. Beyond STEM skill development, students will socialize, make friends, and have fun.
3:15pm: Return to the labs. Let's create!
5pm: Wrap-up your projects for the day.
5–6pm: Pick-up time for Day campers. Pick-up flex hours are between 5–6pm, at no extra charge.
6pm: Dinner for overnight campers.
7pm: Overnight campers participate in supervised recreational activities such as optional sports, gaming tournaments, and movie nights. In some cases, students can continue working on their projects, as scheduling permits.
10pm: Lights out for overnight campers.
Instruction
Discover what sets our teaching style apart.
8:1 Staff Ratio Guarantee
We guarantee small class sizes, with a maximum of 8 students per instructor. At iD Tech, our teaching philosophy is premised on personalization—your path, at your pace. Passionate, all-adult instructors guide you through tailored curriculum with one-on-one teaching. The immersive environment is ideal for fostering creativity and allowing you to reach your learning potential. Read more about our 8:1 iD Guarantee.
How We Teach | Personalized Instruction
Our tech curriculum is based on a blended learning strategy. We couple live one-on-one instruction with iD Game Plan, our innovative learning engine, to provide you with properly paced learning. Most of our courses at iD Tech Camps are for beginner through advanced students.
All-Adult Staff
Our entire staff is comprised of adults ages 18 and over. We do not hire Counselors-in-Training (CITs) at our summer technology camps. We believe you learn best from adults who have mastered their technology skills. Some of our instructors are tech industry professionals. Others are graduate and undergraduate students majoring in the fields of Computer Science, Computer Engineering, App Design, Film, and other related fields. We're extremely selective when it comes to our camp staff.
Friday Family Showcase
On the last day of camp during Family Showcase, instructors present each student with a personalized iD Tech Diploma and recap students' key accomplishments. Afterwards, students unveil their final projects to parents and siblings, demonstrating all that they learned in just one week of camp.
Other Activities
At iD Tech Camps, balance is very important. Our courses are fun and engaging, and completely unlike school. We want you to develop genuine passion for STEM subjects, and keep coming back year after year. If it's not fun—and if you don't learn a lot—we know you won't return. You can expect roughly 5 hours a day of instruction, with plenty of time for supervised breaks, social time, outdoor play, optional sports, video games, and other creative techtivities. (Jump to Sample Day for additional details.) Many clients describe the total iD Tech experience as "magical" and "unlike anything else." We work hard to make the experience unique, memorable, and valuable.
Reviews
Mobile Game Design Camp Reviews
"Our son has found a new appreciation for the possibilities within his grasp."

- Stephanie T., Parent,

Mobile Game Design for iPhone & Android

"We are big fans of iD Tech Camps-four years, three kids and many great courses! Our son's ever-growing skills make him extremely useful at home during the off-season."

- Amy S., Parent,

Mobile Game Design for iPhone & Android

"Great idea to get students from gaming to game design - let the creative juices flow..."

- Erik S., Parent,

Mobile Game Design for iPhone & Android

"My son's enthusiasm spilled over into the household. Made everyone else wish that they had the opportunity to take a class at iD Tech Camps."

- Marianne B., Parent,

Mobile Game Design for iPhone & Android

"This is a great course. So fun to be able to build a game and play it at home."

- George W., Parent,

Mobile Game Design for iPhone & Android

Usually people are afraid to be judged in the world, but at iD Tech Camps you can actually be more yourself than anywhere else."

- Kellz K., Student,

Mobile Game Design for iPhone & Android

"I think that this is the best camp of information technology because they just don't teach about computers, they teach you have to make games, how to give your characters rules on how to move, etc. In conclusion I would suggest this camp to anyone who loves information technology and loves computers."

- Makaile S., Student,

Mobile Game Design for iPhone & Android

"My experience at iD Tech Camps was completely and utterly amazing. My class learned so many skills and values that go much farther than this classroom."

- Michael G., Student,

Mobile Game Design for iPhone & Android

"This camp is awesome, I can't wait to go next week and next year. I learn a ton of new stuff each time and they let you learn more if you are advancing faster or have previous experience. This is a great camp."

- Sam B., Student,

Mobile Game Design for iPhone & Android