RoboBuilders: Robotics for Ages 8-9

iD Tech Mini Course | Ages 8-9
RoboBuilders: Robotics for Ages 8-9
Robotics Engineering Summer Day Camp for Kids
Division

iD Tech Mini

Ages

8-9 (Must turn 8 by 12-31-17)

Skill Level

Beg - Adv
Ratio Guarantee

8 students per instructor

Prerequisite

None

Software

LEGO MINDSTORMS Education EV3 Base Set and Software
Course Description
Inspire the engineer in your student as they design and build awesome machines with the LEGO MINDSTORMS EV3 and software. Using visual drag-and-drop programming software, a range of sensors, and teamwork, your student can build anything from a drag racer to a guard robot that growls at nearby intruders. We get the creativity flowing right away in this hands-on, engaging course.
In this class, students experiment and discover engineering basics via trial and error field testing. Rather than just "snapping bricks together," students learn critical thinking skills and modify their robot designs based on varying conditions. The course exposes students to more complex engineering techniques such as pulleys, inclined planes, and gear use. Let's get building!
Looking for something different? View all robotics courses or engineering camps for kids.
What Will Students Take Home?
Each camper will take home photos of their robot.
What Will Students Learn?
Top Skills Gained
Conceptual Skills Development
Programming concepts
Robotic sensors
Pulleys and levers
Gears and motors
Engineering concepts
Software & Hardware Skills Development

LEGO MINDSTORMS Education EV3 Base Set
LEGO MINDSTORMS Education EV3 Software
STEM & 21st Century Skills Development

Problem-solving
Creativity
Collaborative teamwork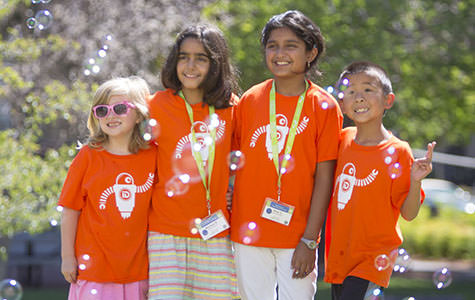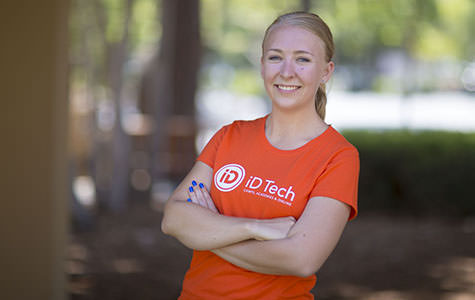 Skill Level | Is This Robotics Course Appropriate for My Student?
This robotics course for kids is ideal for students who like to experiment and work with their hands. Students collaborate with teammates to create robots that range from simple to sophisticated, discovering valuable engineering basics along the way. Ultimately, we introduce students to STEM principles that set the stage for bright futures in computer science , engineering, and math. Early exposure to STEM subjects like robotics, even at rudimentary levels, leads to accelerated comprehension and sustained interest as students grow up.
Our Recommendations
Feel free to call us at 1-888-709-8324 so that we can make personal recommendations, should you need assistance.
Where Is This Course Offered?
California - Northern

California - Southern

Fountain Valley, CA

Pasadena, CA

La Jolla, CA
Half-Day AM
Ages: 6-9
Check-In: 8-8:30am Mon-Fri
Pick-Up: 12-12:30pm Mon-Thurs, 12pm Fri
Tuition: From $449/week USD. All taxes included.
Half-Day PM
Ages: 6-9
Check-In: 1-1:30pm Mon-Fri
Pick-Up: 5-5:30pm Mon-Thurs, 5pm Fri
Tuition: From $449/week USD. All taxes included.
Full-Day
Ages: 6-9
Check-In: 8-8:30am Mon-Fri
Pick-Up: 5-5:30pm Mon-Thurs, 5pm Fri
Tuition: Varies by location
Please note: In addition to the prices listed above, there will be a one-time Safety & Compliance Fee of $20 per student per year. Students attending a full-day session must bring a bag lunch.
Your Tuition Includes:
8:1 student-to-instructor ratio (guaranteed)
Free flex time at check-in and pick-up
Diploma with instructor insights
Course activity files and software discounts
Custom iD Tech t-shirt, H2O bottle
Fun, outdoor activities
New skills and tech confidence
Tech Rocket
Add $179 (annual subscription)
Tech Rocket is the #1 online learning destination for kids and teens. Aspiring app programmer? Indie game developer? Graphic artist? You got this! Level up your tech skills and build community with thousands of other students. With gaming tournaments, safe, collaborative forums, a massive Minecraft server, and an arcade, Tech Rocket makes learning fun all year long. It's the perfect complement to our summer programs!
8–8:30am: Half-day AM campers and full-day campers check in during flex time. Campers participate in icebreaker activities.
8:30am: Split into course groups and let the tech innovation begin! Breaks are taken at the discretion of each instructor. Younger students will take more frequent breaks.
10am: Recess time! Snacks brought from home will be enjoyed.
10:30am: Resume instruction!
Noon–12:30pm: AM campers check out while full-day campers enjoy gaming time (including Minecraft)!
12:30pm: Full-day campers eat lunch. Please note that full-day students are required to bring a bagged lunch.
1–1:30pm: Activity time for full-day campers and check-in time for half-day PM campers.
1:30pm: Head to the labs. Let's create!
3pm: Recess and snack time!
3:30pm: Half-day PM and full-day students head back to the labs for instruction.
5–5:30pm: Pick-up time for half-day PM and full-day campers.
Instruction
Discover what sets our teaching style apart.
8:1 Staff Ratio Guarantee
We guarantee small class sizes, with a maximum of 8 students per instructor. At iD Tech Mini, our teaching philosophy is premised on personalization—your path, at your pace. Passionate, adult-only instructors guide you through tailored curriculum with one-on-one teaching. The immersive environment is ideal for fostering creativity and allowing you to reach your potential. Read more about our 8:1 iD Guarantee.
All-Adult Staff
Our entire staff is comprised of adults ages 18 and over. We do not hire Counselors-in-Training (CITs) at our summer technology camps. We believe you learn best from adults who have mastered their technology skills. Some of our instructors are tech industry professionals. Others are graduate and undergraduate students majoring in the fields of Computer Science, Web Design, Computer Engineering, App Design, Film, and other related fields. We're extremely selective when it comes to our summer staff.
Friday Open House for Families
On the last day of camp during Open House, instructors present each student with a personalized iD Tech Diploma and recap students' key accomplishments. Afterwards, students show their families what they spent the week learning!
Other Activities
Playtime has never been more fun! Students can expect a common-sense mix of instruction, breaks, social time, outdoor play, optional sports, video games, and other creative, age-appropriate activities.
Reviews
Robotics Camp Reviews & Testimonials
"Our son was electric every day after the Master Robotics camp with Brainstorm, his instructor. Thank you for such a great learning experience all week!"

- Kelly S., Parent,

RoboBuilders: Robotics for Ages 8-9

"My son loved the camp. He was very excited to learn about the robotics and the technology, and was happy to create new robots."

- Robin J., Parent,

RoboBuilders: Robotics for Ages 8-9

"What a fun week to build robots and new friendships. A big thank you to all the friendly staff!"

- Glei M., Parent,

RoboBuilders: Robotics for Ages 8-9

"This was an excellent experience for learning robotics for my child."

- Yanhua A., Parent,

RoboBuilders: Robotics for Ages 8-9

"My son thoroughly enjoyed the robotics class. We will definitely return next summer for more courses!"

- Malinee M., Parent,

RoboBuilders: Robotics for Ages 8-9

"The entire staff was extremely pleasant and excellent with the children."

- Gabrielle B., Parent,

RoboBuilders: Robotics for Ages 8-9

"This camp was an energetic, intellectual, exciting learning opportunity. The staff was beyond kind and always there if you had any questions. I instantly felt that like this was going to be a great experience for my daughter and it was!"

- Tiffany K., Parent,

RoboBuilders: Robotics for Ages 8-9