Master Minecraft Game Designer

iD Tech Mini Course | Ages 8-9
Master Minecraft Game Designer
Game Design Summer Day Camp for Kids
Division

iD Tech Mini

Ages

8-9 (Must turn 8 by 12-31-16)

Skill Level

Beg - Adv
Ratio Guarantee

8 students per instructor

Prerequisite

None

Software

Minecraft
Course Description
Learn level design with Minecraft! Program teleporters and boost your stats with command blocks, then customize your world with resource packs you design yourself. The possibilities are endless!
Students in this class are taught the basics of level creation through gameplay. However, rather than just "playing" Minecraft, students learn to think critically about storytelling and player engagement. Minecraft teaches spatial reasoning and engineering principles, and is also known to assist in improving hand-eye coordination. With guided instruction, students can move beyond simple gameplay and discover fundamental game programming concepts such as Redstone levers and command blocks.
What Will Students Take Home?
Each camper will take home their Minecraft saves and resource pack folder.
What Will Students Learn?
Top Skills Gained
Conceptual Skills Development
Basic 3D design
World building concepts
Custom resource packs
Command block programming
Redstone levers
Software & Hardware Skills Development

STEM & 21st Century Skills Development

Creativity
Problem-solving
Adapting to new challenges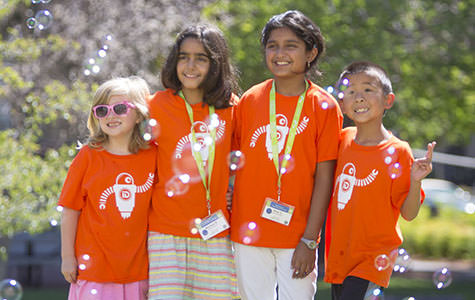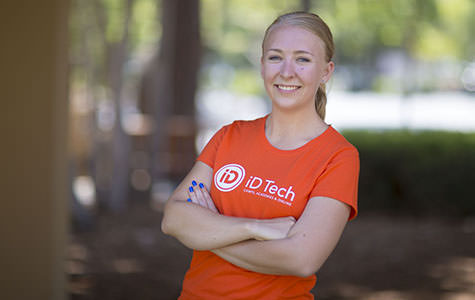 Skill Level | Is This Game Design Course Appropriate for My Student?
This game design course is ideal for kids who enjoy gaming, storytelling, and creating. Projects can be easily tackled solo or collaboratively, introducing kids to STEM principles that set the foundation for bright futures in computer science , game design, engineering, and math. Early exposure to STEM subjects such as game design, even at rudimentary levels, leads to improved comprehension and increased enthusiasm. Students will thrive in an exploratory environment, without the pressure of assignments or tests. We also incorporate a common-sense balance of high-energy, outdoor activities!
Our Recommendations
Need assistance? Feel free to call us at 1-888-709-8324 so that we can make personal recommendations.
Where Is This Course Offered?
California - Northern

California - Southern

Pasadena, CA

La Jolla, CA

Irvine, CA
Half Day AM
Ages: 6-9
Check-In: 8-8:30am Mon-Fri
Pick-Up: 12-12:30pm Mon-Thurs, 12pm Fri
Tuition: From $399-479/week USD. All taxes included.
Half Day PM
Ages: 6-9
Check-In: 1-1:30pm Mon-Fri
Pick-Up: 5-5:30pm Mon-Thurs, 5pm Fri
Tuition: From $399-459/week USD. All taxes included.
Full Day
Ages: 6-9
Check-In: 8-8:30am Mon-Fri
Pick-Up: 5-5:30pm Mon-Thurs, 5pm Fri
Tuition: From $798-958/week USD. All taxes included.
Please note: In addition to the prices listed above, there will be a one-time Safety & Compliance Fee of $20 per student per year. Students attending a Full Day session must bring a bag lunch.
Your Tuition Includes:
8:1 student-to-instructor ratio guarantee
Diploma with instructor insights
Course activity files
Custom iD Tech Mini T-shirt
H2O bottle
Gameplay
Outdoor activities
Software specials (most courses)
New skills and self-confidence
Tech Rocket
Add $179 (annual subscription)
Tech Rocket is the #1 online learning destination for kids and teens. Aspiring app programmer? Indie game developer? Graphic artist? You got this! Level up your tech skills and build community with thousands of other students. With gaming tournaments, safe, collaborative forums, a massive Minecraft server, and an arcade, Tech Rocket makes learning fun all year long. It's the perfect complement to our summer programs!
8-8:30am: Half Day AM campers and Full Day campers check in during Flex Time. Campers participate in ice breaker activities and Tech Coordinator leads optional Lab Tours for parents.
8:30am: Split into course groups and let the tech innovation begin with instruction and Maker Station rotations! At our Maker Station, campers experience hands-on learning with cool tech gadgets and toys. Breaks are taken at the discretion of each instructor. Younger students will take more frequent breaks.
10am: Recess time! Enjoy a snack brought from home!
10:30: Resume instruction and Maker Station rotations.
12-12:30pm: AM campers check out while Full Day campers enjoy gaming time (including Minecraft)!
12:30: Full Day campers eat lunch. Please note that Full Day students are required to bring a bagged lunch.
1-1:30pm: Activity time for Full Day campers and check-in time for Half Day PM campers.
1:30pm: Head to the labs. Let's create!
3pm: Recess and snack time!
3:30pm: Half Day PM and Full Day students head back to the labs for instruction and Maker Station rotations for hands-on learning with cool tech gadgets and toys!
5-5:30pm: Pick-up time for Half Day PM and Full Day campers.
Instruction
Discover what sets our teaching style apart.
8:1 Staff Ratio Guarantee
We guarantee small class sizes, with a maximum of 8 students per instructor. At iD Tech Mini, our teaching philosophy is premised on personalization—your path, at your pace. Passionate, adult-only instructors guide you through tailored curriculum with one-on-one teaching. The immersive environment is ideal for fostering creativity and allowing you to reach your potential. Read more about our 8:1 iD Guarantee.
All-Adult Staff
Our entire staff is comprised of adults ages 18 and over. We do not hire Counselors-in-Training (CITs) at our summer technology camps. We believe you learn best from adults who have mastered their technology skills. Some of our instructors are tech industry professionals. Others are graduate and undergraduate students majoring in the fields of Computer Science, Web Design, Computer Engineering, App Design, Film, and other related fields. We're extremely selective when it comes to our summer staff.
Maker Station & Other Activities
There's no better place to learn engineering principles, spatial reasoning, programming concepts, and problem solving skills than at the iD Tech Mini Maker Station! During fun, supervised breaks, campers will explore a diverse collection of both high-tech and low-tech gadgets and leading tech toys including the GoldieBlox Dunk Tank Construction Set, ThinkFun Robot Turtles, Roominate Chateau with electrical elements, MakeyMakey Invention Kit, and littleBits Electronics. Playtime has never been more fun! Additionally, students can expect a common-sense mix of instruction, breaks, social time, outdoor play, optional sports, video games, and other creative techtivities.
Reviews
Game Design Camp Reviews & Testimonials
"This camp did a good job of balancing camp-type activities (games, friend-making, etc.) along with the Minecraft skill-building. Drop-off and pick-up were exceptional, timely, and efficient."

- Andy N., Parent,

Master Minecraft Game Designer

"My son loves Minecraft and it was wonderful that he was able to learn some new things in a fun environment. He said his teacher was 'really good!'"

- Wende H., Parent,

Master Minecraft Game Designer

"This summer camp helped my daughter to become more comfortable with Minecraft design. Now she can share and play with her brother. Thank you!"

- Isabelle T., Parent,

Master Minecraft Game Designer

"My son loved the class. He's always loved Minecraft and was excited to add a whole new depth to it."

- Vera S., Parent,

Master Minecraft Game Designer

"I was so glad to see more than just a few girls in my daughter's Minecraft class; she didn't feel like an outsider. Nice work!"

- Amanda R., Parent,

Master Minecraft Game Designer

"Loved the fun the instructors had with the kids. They made sure everyone had the right level of interaction and support."

- Lily M., Parent,

Master Minecraft Game Designer