On Friday, I got up early and headed from Penn Station, caught the Blue Line up to 42nd street, then the 7 Line over to Grand Central. From there, I took the train uptown to The Bronx and our summer computer camp at Fordham University. What a camp! The lab looked great, our students were having a blast, and I got to meet personally with each staff member.
Here are a few photos of the visit. Thank you, iD Tech Camp at Fordham University! You guys rock!
The view from Penn Station. Not bad!
Arriving to Fordham
The big dog on campus!
"iD Tech Camps, how can I help you?"
I LOVE this picture!
Gotcha!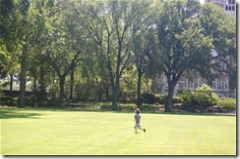 Heading back to New York City
Chu Chu
Thanks for showing me such a cool tech camp, guys and gals! It was awesome to see this summer camp in action and I hope you guys enjoy the rest of the summer. Have fun. Be safe!
-Pete