Welcome to our Summer Computer Camp at Rider University! It was a blast seeing everyone. Check out some of the photos. I am sorry I didn't get to meet our commuting campers–but there is always next time. Have a great Family Showcase tomorrow! You've been PWND!
The banner flies high at Rider U.
And so does this one.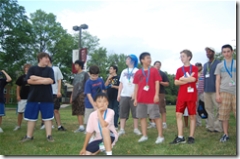 Some of our awesome techies.
Close up!
Summer Camp Spirit–Nice work guys and gals!
I thank the gals for your feedback on our future curriculum!
On Campus.
On campus with one eye hiding.
Camp is FUN, huh?!
Yep!
Yep!
Close up!
Two of our favorite camp counselors…oh wait…
That's me with Diane. She said she was licensed to drive the cart. I trusted her.
But not for long. She got pushed aside.
Jon O. Sorry I had to take your bike. I am currently in 3rd at the Tour De Lawrenceville. See me on ESPN.
Just kidding.
Portrait shot!
Digital Scavenger Hunt
What up?
Someone isn't smiling…
Yes he IS!
Nintendo Wii
One of the Labs
Cool Video Game created in Multimedia Fusion
Smile!
Not in our camp, but still a video gamer.
Sunset
Sundown at Rider
Why do they call it the Waffle House?
One of our lab's ceilings…really!
iD Themed Waffle Posters–Creativity at its finest
3D Modeling with Maya
3D Modeling with Maya
3D Modeling with Maya
3D Modeler
3D Modeling with Maya
It was a blast seeing you all at our summer tech camp at Rider University! Thanks for showing me around. And, for the record, I arrived in New York last night, quite late, and I still had my blue PWND tape on me. Good stuff! Didn't even realize it!
Have fun. Be safe!
-Pete