We are starting the 2015 season off with a bang! A whopping 11 new corporate employees started their journey with iD Tech this week. The featured photo above shows the eight new Client Services Representatives that will be the first line of contact for our awesome clients this summer. They are going through an extensive training program to learn the ins and outs of iD Tech's many programs so that they can provide our famous, positively outrageous service. They will be pros in no time!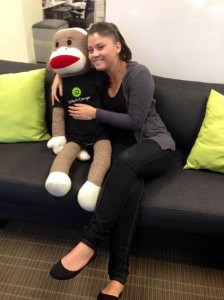 Candice (photo above) is the newest addition to the People Services department. As you can see, she is already making friends! Candice will be taking on the responsibility of making sure all 1,500+ summer staffers are background checked and ready to start work for the summer so we can provide the best and safest possible environment for our students.
Connie (photo above) just started at iD Tech as our new Accounting Assistant. This SJSU graduate will be assisting the Accounting department in doing what they do best… adding, subtracting and dividing! Chris (photo below) is the newest member of our Tech Rocket team! With a background in education, he will be putting his skills to use spreading the word about our online learning system. To learn more about Tech Rocket, click here.
Want to participate in the fun? Click here to see open positions at iD Tech!