Meet Zack
This iD Tech alum uses his programming career to help the hard-of-hearing.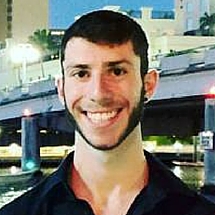 Zack got to spend two summers doing what he loves most—programming.
"I attended the iD Programming Academy at American University in 2012 and MIT in 2013," Zack says. "I have to say it had an immense impact on my life. I had such an amazing time learning so much about the Android development process; my whole career is founded on those courses."
Zack took his new tech skills and love of programming and enrolled at the University of South Florida, where he studied Software Engineering. He also came back to the iD Programming Academy as an instructor at MIT in 2014 and again at Stanford in 2015, where he says he "learned to put himself aside for someone else," in addition to, of course, developing a better understanding of programming for Android.
He continued his learning outside of school as well. Zack made application after application, getting a feel for different capabilities and new techniques. Soon after, the prospect of being hired as a programmer soon became a tangible reality.
"Before I knew it I was getting invitations to interview for several jobs. For a while, it was multiple interviews a day!" Zack says. "This also seeped into my school work when I began writing papers describing my projects, ideas, and work experience. It simply became a huge part of my life."
In his current job, Zack develops on multiple platforms for the FCC, creating a video relay service (VRS) to help the deaf and hard of hearing communicate more effectively. "We had some of our deaf team members come to visit our offices and discuss the future of our project. When I saw their faces, I knew that this was worth it. That it isn't about money, fame or fortune, but changing someone's life so they can communicate with the rest of the world."
He has this to say about his time at iD Tech, pursuing tech goals, and finding your passion:
"iD Tech has given me the knowledge and experience needed to get my job. I use what I learned there every single day, including that passion for your work will get you far. I jump out of bed at 6am because I love what I do and know it will help a lot of people."
Inspired by Zack's Story?