Meet Marc
At 16 years old, Marc developed an app for a UC Berkeley Civil Engineering professor.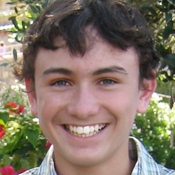 Developing apps, publishing them in the Apple App Store, and earning money from sales as far away as Japan is quite an accomplishment. For Marc, this activity of building and selling apps has allowed him to take the skills he learned at iD Tech Camps even further.
Now, Marc is on his way to making a career of it. After publishing his games, Mazetron and Spellcaster, he was hired by a professor at the prestigious UC Berkeley to create a seismic soils response simulator app.
"I had an interest in programming before attending camp, but iD Tech Camps taught me the C++ and Objective C skills I needed to actually create iPhone apps. I left camp with the know-how to build my own apps, and am now earning money doing so for myself and others."
MCCGUI (Modified Cam Clay Graphical User Interface) is the name of the creation Marc developed for the University's Civil Engineering Department. It is "designed to visualize the predicted soil response for clays in drained and undrained triaxial testing using the original modified cam clay." Not exactly child's play.
Marc accomplished his goals by not giving up on his interests, and finding ways to push forward even after camp instruction came to a close. It's one of the keys to his success, and something he encourages others to do if they truly have a passion for learning, and most importantly, "doing."
"Even after camp has ended, don't stop learning. Learning at iD Tech Camps is so efficient, but during the school year there are always opportunities to continue learning. iD Tech Camps inspired me to keep learning and creating."
With such a mindset, there is no telling where Marc's skills will take him next. Either way, it's evident he'll continue to enjoy the opportunities provided to him by learning valuable 21st century skills at iD Tech Camps.
Inspired by Marc's Story?